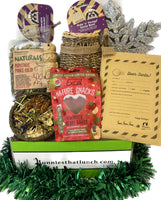 All sign ups will now receive the Christmas Special Box!
Get yours via the JOIN NOW page!
Santa Paws has been and The Christmas Special is Here!!

This bumper box of festive fun contains everything you could wish for this Christmas time!
With an RRP of over £27!
This box contains:
-Santa's Woven Boot - fill with hay for foraging fun!
- Christmas Eve Tray - this might just be the cutest item yet! An edible tray filled with treats to leave for Santa and Rudolph on Christmas Eve ( or eat them yourself if your a greedy bun!)
-Letter to Santa - A super cute 'Letter to Santa' you can fill in your bunnies wishes and then tear open and scatter the forage inside.
- Winter Berry Bakes - Everyone's favourites are back for the holidays!
-Christmas Cookie Salad - A yummy healthy forage blend with added grain free cookies inside
-Gnawable Nutcracker - Made from ground wood, these gnaws are super safe to chew as they cannot splinter - keep those teeth nice and healthy!
Get yours WORLDWIDE available EXCLUSIVELY to subscribers!

All subscriptions will ship together around 17th November
Add ons may be shipped separately.
Join Now!
What to expect...
When you sign up for Bunnies That Lunch, every month you will receive a box of carefully selected bunny safe toys and healthy treats - Worldwide shipping is available! 
All plans auto renew unless cancelled.
Cancel at any time.
Orders are shipped towards the 18th of each calendar month ready to arrive at the start of the next month.