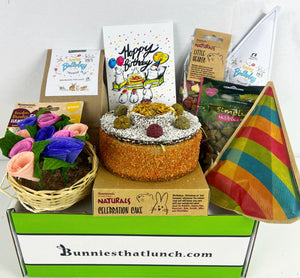 The NEW improved and lower priced Birthday Box is HERE!

The Bunny Birthday Box contains:

Bunny Birthday Cake.
Bunnies That Lunch Birthday Forage

Bunnies That Lunch Kraft Paper 'Party Hat' filled with Rose petals and forage

Little Hearts OR Apple and Pansy Hearts
Floral Hanging Basket
Apple and Herb Simply Nibbles.
An adorable Bunny Birthday card designed by Ivy illustrations.