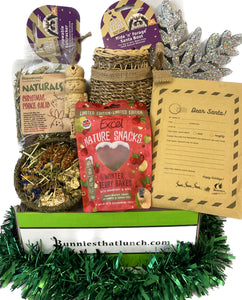 *This will be your subscription box if you subscribe during November*
Santa Paws has been and The Christmas Special is Here!!

This bumper box of festive fun contains everything you could wish for this Christmas time!
With an RRP of over £27!
This box contains:
-Santa's Woven Boot - fill with hay for foraging fun!
- Christmas Eve Tray - this might just be the cutest item yet! An edible tray filled with treats to leave for Santa and Rudolph on Christmas Eve ( or eat them yourself if your a greedy bun!)
-Letter to Santa - A super cute 'Letter to Santa' you can fill in your bunnies wishes and then tear open and scatter the forage inside.
- Winter Berry Bakes - Everyone's favourites are back for the holidays!
-Christmas Cookie Salad - A yummy healthy forage blend with added grain free cookies inside
-Gnawable Nutcracker - Made from ground wood, these gnaws are super safe to chew as they cannot splinter - keep those teeth nice and healthy!
Suitable for Rabbits and Guinea Pigs