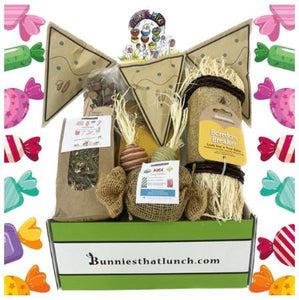 The Bunny Sweet Shop Box Contains:
A beautiful mix of healthy and natural toys and treats themed like sweets and treats from a classic Pick 'N' Mix style Sweet Shop.
Naturals Grainless Herb 'N' Veg Drops - four delicious flavoured grain-free treats for your bunny, their yummy flavours are Dandelion, Beetroot, Carrot and Mixed Herbs. There is something for everybun!
Loofa Toss 'n' Treat Roller - Natural loofa and corn leaf toy which your bunny is sure to love. You can fill with treats and watch them throw this toy around trying to make their yummy treatos fall out. 
Bunny Forage Bunting - 3 flag bunny bunting made out of kraft paper and filled with yummy forage for your bunny. Forage flavours include Rose Flowers and Parsley Stalks. 
Pick 'n' Mix Sweetie Shop Forage - Everybun is sure to love this forage blend with Mediterranean Hay, Rose Flowers, Parsley Stalks, Carrot Chips and Apple Chips. 
Wacky Rollers - two fun gnaw toys which look like yummy sweets, your bun will love to throw these around during playtime. 
Candy Forage "Sweetie" Toy - fun Mediterranean Hay filled hessian sweet shaped toy for your bunny, everybun goes crazy for this yummy hay! Watch as they try and open their "sweet" to munch the yummy hay inside.