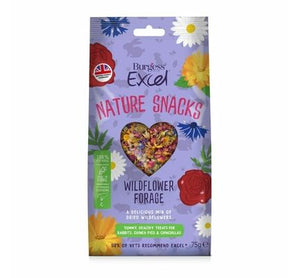 Lovingly made, our delicious mix of wildflowers is irresistible to rabbits, guinea pigs & chinchillas and is naturally healthy too. Made with a tempting mix of rose, hibiscus, marigold & cornflower, Burgess Excel Wildflower Forage is a complementary feed for rabbits, guinea pigs and chinchillas.
 High in fibre
 100% natural ingredients
 Encourages natural foraging behaviour.
Composition
Red clover, marigold blossoms (20%), hibiscus blossoms (15%), rose blossoms (10%), cornflower petals (10%), camomile petals (10%).