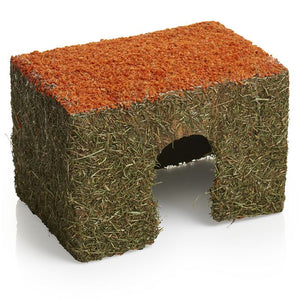 Your furry little friends will love the fun of nibbling on the real carrot roof - which will keep them entertained for hours whilst keeping teeth nice and trim!
The den is coated inside and out in meadow hay which provides shelter, helping your pets to feel more secure whilst having fun gnawing away. Always read pack instructions.
Would suit guinea pigs, degus and dwarf breed bunnies as a hide - or to be used as an edible chew toy for Rabbits of all sizes.
Size: 37cm x 25cm x 24cm.