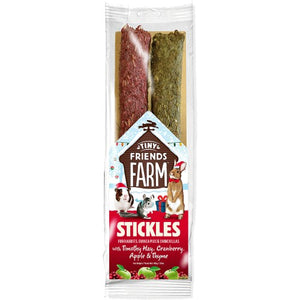 Your pets will go wild for these tasty Christmas treats that are bursting with a blend of delicious Timothy hay, cranberry, apple and thyme.
Packed with festive flavour they are just perfect to pop in your Tiny Friend's Christmas stocking.
They can be carefully hand fed to your pets, helping you to build those magical Christmas moments together.
Tiny Friends Stickles can also be hung around your pet's enclosure to encourage foraging and gnawing.
Stickles are suitable for rabbits, guinea pigs and chinchillas.
Add some magic to your Tiny Friend's Christmas with these festive Stickles because even small pets deserve a gift from Santa Paws.