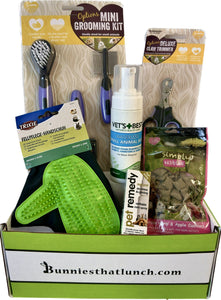 This box is the perfect way to groom your bunny or guinea pig in the comfort of your own home.

The Grooming Box contains:
Nail Clippers.
3 Pack of Brushes, combs and slicker.
Waterless Small Animal Shampoo (approved by vets).
Pet Remedy to help keep your pet calm
Grooming Mitt. 
Simply Nibble Apple and Herb Cushion (a treat for when you are done).
Worldwide Shipping.