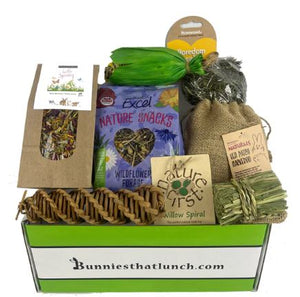 The Hello Springtime Box Contains:
- BRAND NEW - Bunnies That Lunch Hello Spring Forage Mix - containing marigold, rose, carrot chips, raspberry leaves, papaya strips
- Veg Patch Sackaroo - A Hessian just bag filled with forage - your small pet can shred, toss and forage the bag to reach the yummies inside! Be sure to reuse the bag for timeless fun too!

-Mini Hay Bale - These are SO popular and SO yummy!
-Flinging Fun Corn Toy- A super fun Boredom Breaker designed to be tossed around
- Burgess Wildflower Forage- Made with a tempting mix of rose, hibiscus, marigold & cornflower
- Willow Spiral - A yummy natural chew toy to keep teeth nice and trim
Plus a super cute postcard of course