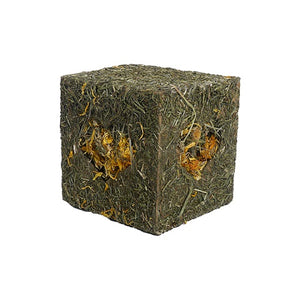 Everybun's favourite item! - The  I Love Hay Cube!
A parchment box with cute heart-shaped windows coated in hay and stuffed with more hay and marigolds - this fun and yummy challenge is sure to be a big hit!

Supervision is recommended with this item.

Suitable for all Small Animals.
Composition: Meadow Hay 52.7%, Vegetable Starch 27.3%, Cellulose Fibre 17.7%, Marigold Blossoms 2.3%