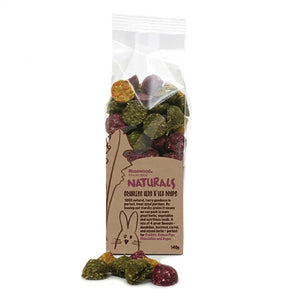 Rosewood Naturals Grainless Herb n Veg Drops are 100% natural and tasty goodness in perfect, treat sized portions.
Healthier than milk, yoghurt or milk drops, the drops have been made with beneficial vegetables, herbs and seeds, including a mix of 4 great flavours: dandelion, carrot, mixed herb and beetroot.
Rosewood Grainless Drops are also free from added sugar, honey, glue, gelatine and dairy products.
Ingredients:
Peas, Carrot, Vegetable Starch, Parsley, Dandelion, Beetroot, Ribwort, Timothy Grass, Nettle, Cocksfoot, Smooth Stalk Meadow Grass, Green Oats, Red Clover, Meadow Fescue, Ladies Mantel