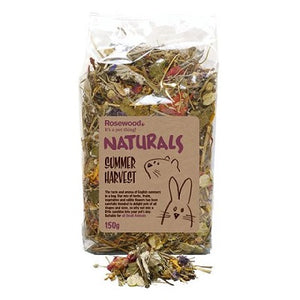 The taste and aroma of English summers in a bag.

Naturals' mix of herbs, fruits, vegetables and edible flowers has been carefully blended to delight pets of all shapes and sizes, so why not mix a little sunshine into your pet's day.
Suitable for all small animals. Part of our best-selling Naturals herbal salads range.

Ingredients:
Pea flakes (30%), raspberry leaves (25%), mallow herb (15%), chamomile herb (8%), rose blossoms (5%), marigold blossoms (5%), cornflower (4.5%), camomile blossoms (4%), strawberry (2%), sunflower petals (1%), mallow blossoms (0.5%) (all as dried ingredients). Protein 14.2%, crude fat 3.4%, crude fibre 13.6%, crude ash 7.8%, sodium 0.07%.