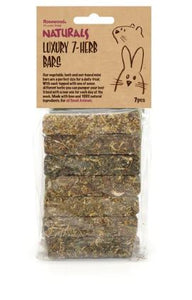 SECONDS - These contain some snapped and crumbley bars but still just as yummy
A Brand NEW product from the Rosewood Naturals range!
This 7 pack of herb based mini bars are the perfect size for a daily treat. 
Pamper your best friend with a daily treat!
Made with natural ingredients.
Suitable for all small animals
Ingredients:
Marigold (calendula) (20.8%), dandelion (16.3%), vegetable starch, oats (13.5%), pea flakes (10.8%), parsley (5.4%), nettle (2.8%), melissa (2.8%), ribwort (2.8%), peppermint (2.8%), chamomile (2.8%), lovage (2.2%), vegetable oil, carrots (1%)