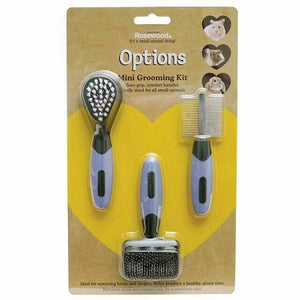 Rosewood Options Mini Grooming Kit is a high quality practical grooming set for your smaller pets.

The set includes: a Mini Double-Sided comb which is great for teasing out knots and tangles in longer coats; a Mini Slicker Brush which is excellent at clearing dead and matted hair (especially from the undercoat!); and a Mini Soft Brush which is ideal for promoting a healthy and glossy coat! Grooming your pet is a great way to bond with him or her, as many animals use grooming to reinforce bonds!

The grooming kit brushes also have a distinctive comfort grip which allows you to groom your pet with comfort and ease.