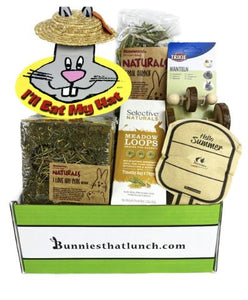 The Summer Fun Box Contains:
A beautiful mix of healthy and natural toys and treats, perfect for getting you Summer ready!
- BRAND NEW - Bunnies That Lunch Kraft Paper Lolly Pop - containing yummy rose petals
-I'll Eat My Hat Edible Sun Hat - A Chew toy designed to put hay and forage in for your small pet to enjoy
-Naturals Herbal Garden - A Yummy Forage Mix
-Selective Meadow Loops - Everybuns favourite treat!
- Wooden Dumbbell Chew Toy - A cute gnawable toy
- Naturals I Love Hay Cube  - It's always a bonus when we can get these in the box for you guys!
PLUS a super cute postcard of course