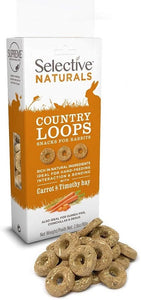 Selective Naturals Country Loops for Rabbits, Guinea pigs, Chinchillas & Degus, with Carrot & Timothy Hay. Healthy indulgent treats, high in fibre with no added sugar.

The perfect hand feeding treat for your bun!
Composition: Wheat flour, ground timothy hay, ground dried locust beans, dried carrot, soya oil, linseeds, ground peas.