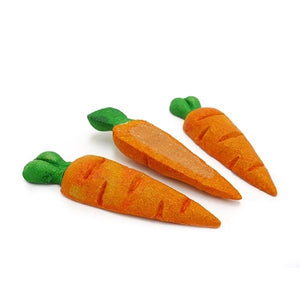 A fun 2-in-1 gnaw and treat that helps to satisfy a pet's need to gnaw and relieve boredom. Each carrot is made from natural wood blended with vegetable-based ingredients with a special, gnawable treat filling made from real carrot.
Each gnaw has two different textures, equally hard, to satisfy your pet's desire to gnaw, as well as making each carrot last so much longer. Each 12cm long gnaw is sized to help stimulate pets and relieve boredom whatever their size.
Ideal for rabbits, Guinea pigs, hamsters, chinchillas, gerbils, rats and mice - can also be offered to degus in strict moderation. 
Composition: Edible wood, vegetable starch, powdered carrot (13.3%), rice starch, vegetable glycerin, alfalfa (0.7%)